INDRODUCINGThe LIFT3 eFoil
When you drop into that perfect turn, hovering above water on the foil, completely one with the board, experiencing flight… you'll remember that moment for the rest of your life.
INDRODUCINGUp to 100 minutes
Pro design this year is a fair amount smaller than last year's Pro model, but with the updated LIFT3 design features it's actually easier to dominate.
At first glance, the small size might seem intimidating, but riders worldwide have had nothing but success in getting to their feet and up on foil.
Anybody who rides the pro board has a hard time going back to anything else because the sensation is unworldly.
This board is everything foiling should be and definitely the direction of the sport–it's compact size makes you feel like you're flying on nothing at all and the response in its carve is the most liberating feeling you can have on the water.
This is the lightest board in the range, and really easy to handle for transport and getting around.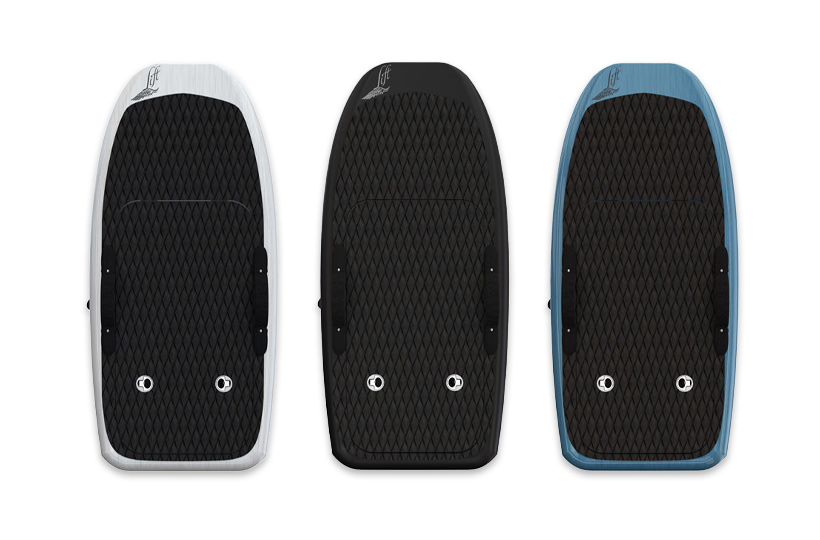 Specifications
| | |
| --- | --- |
| Weight | 20.4 kg |
| Color | Brushed Blue, Brushed White, Carbon Black |
Wing Combos – Everything works
– 150 Surf V2 is a very responsive and fast combo.
– 200 Surf V2 will offer great all round cruising and efficiency.
– 200 High Aspect will glide forever if you're looking for long distance or some swell riding with the folding prop.
– Tail Wings: 38 Surf V2 is the standard. Try the 32 Glide for extra speed if you want to make it a super pro.
TECHNICAL SPECS
CLOSE
This is a shop favorite and our go-to recommendation for eFoilers, whether you're new to the sport or looking to upgrade from a previous generation.
The 4'9 Sport offers a great balance between stability and performance. If you want a board that is going to allow you to grow your skills as a foiler and still be able to share it with friends and family, look no further.
This board is the perfect size and shape for just about all of your foiling needs and offers easy transport and handling.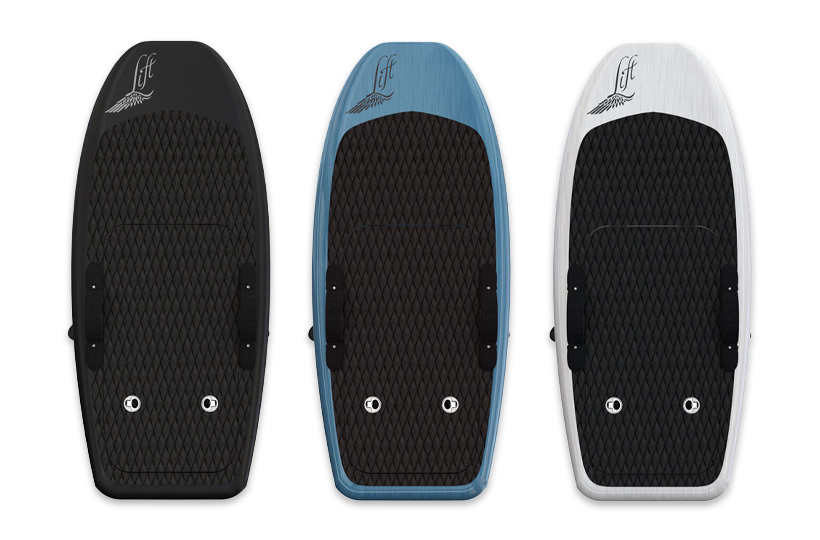 SPECIFICATIONS
| | |
| --- | --- |
| WEIGHT | 23 KG |
| COLOR | BRUSHED BLUE, BRUSHED WHITE, CARBON BLACK |
Wing Combos. 
– Try the 150 Surf V2 offers a faster, more lively ride.
– The 250 Surf will allow for extra stability and low-speed riding for larger riders that want the loose turning of a smaller board.
– Tail Wings: 38 Tail will be a bit sportier. 48 Tail will have more stability.
TECHNICAL SPECS
CLOSE
At 5'4", this board is still quite short, but offers all the stability that any rider will need.
When up in the air, it carves a beautiful turn that locks in with confidence.  If you're new to watersports and you want to share the eFoil experience with friends and family, this is a great option that will offer absolute success.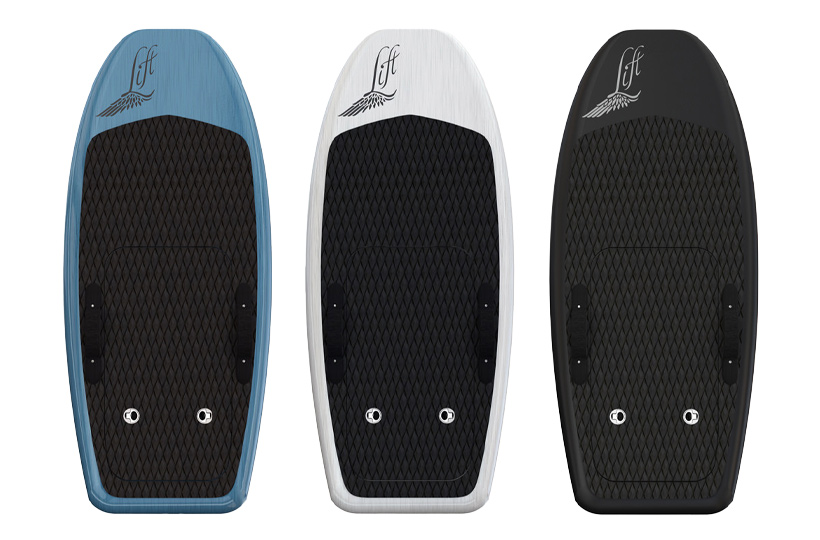 SPECIFICATIONS
| | |
| --- | --- |
| WEIGHT | 25.8 KG |
| COLOR | BRUSHED BLUE, BRUSHED WHITE, MATTE CARBON BLACK |
Wing Combos. 
– The 200 Surf V2 / 48 Surf V2 is our recommended combination, offering a wide variety of ride experiences to any rider.
– Try the 250 Surf V2 / 48 Surf V2 if you are a larger rider or interested in staying out of the water all of the time.
TECHNICAL SPECS
CLOSE
The LIFT3  Explorer has maximum volume, in a smaller, more stable and more manageable size than its predecessor.
Want to teach 10 friends how to foil on one battery charge? Or maybe your grandparents want to ride too… No problem on the 5'9 Explorer!
Anybody can ride the Explorer and experience the sensation of flying over water without having previous skills or water sports know how.
A great tool for sharing the stoke with absolutely everyone.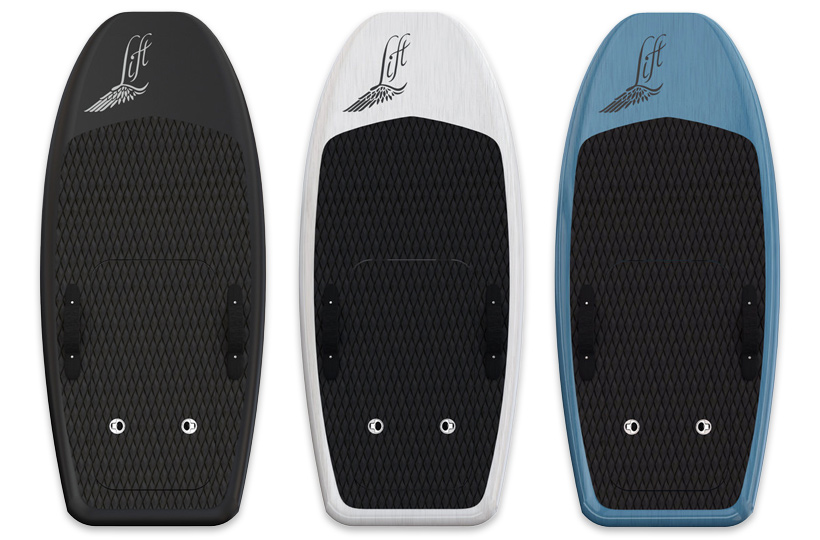 SPECIFICATIONS
| | |
| --- | --- |
| WEIGHT | 28.5 KG |
| COLOR | BRUSHED BLUE, BRUSHED WHITE, CARBON BLACK |
Wing Combos 
– The 250 Surf V2 / 48 Surf V2 will be the standard here. Absolute control and low speed flying.
– Try the 300 Surf V2 (AKA the 300 Sea Pig). It's an almost comically-large wing size, but everyone at Lift absolutely loves to ride it. It's a perfect tool for learning how to foil. Every school should have one.
TECHNICAL SPECS
CLOSE